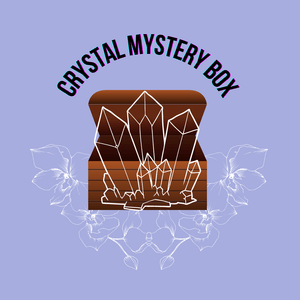 A collection of crystals for every price point!

Do note: Higher priced boxes will contain more/larger crystals or even gold-filled crystal jewellery pieces.
All mystery boxes are different and intuitively picked.
Please leave in the notes if you prefer jewellery or crystals
Jewellery
I prefer only crystal than Jewellery.
Maybe for beginners.
Lin
gorgeous crystals, and the healing properties are HAND WRITTEN. Didn't take to long to arrive and came in great condition.
Loved the box
There was an amazing mix of statement pieces and tumbles according to my requests! There were even cards stating the crystals and their properties, super sweet!
great mystery box
i bought the $15 box and received such a nice collection of crystals, the seller took the time to write down each crystals' purpose by hand and each one of them was stunning. the ones that were picked give me such a comforting energy. there was a nice selection of shapes and i got this gorgeous flower agate freeform i am absolutely obsessed with. all the pieces are so juicy!!
Loved the mystery boxes
Loved every single thing placed inside. The crystals that were picked resonates with me.The seller placed a lot of care and effort in picking the crystals and wrote down its purposes in a card..HANDWRITTEN. other than these i bought other crystals but she still handwrote every single one of them. The crystals were well packed and safe in bubble wrap. the crystals itself were high quality and looked stunning. No other words can be explained for the statement pieces. whether you use crystals in your daily life or simply as a decoration, its still stunning. can't wait for the store to reopen soon. planning to add more to my collection!